Excite Pharma Services offers cGMP sterile fill and manufacturing services from its headquarters in Lee's Summit, MO. Our cGMP sterile fill / manufacturing facility consists of 4 cleanrooms (ISO 5-8 certified) able to handle Phase I & II hand fill operations and small-scale commercial needs for injectable products for both human and animal drugs.  Our 12 x 16 ft. ISO 5 cleanroom can accommodate Phase III or small-scale commercial needs while our ISO 6 cleanroom is equipped with an ISO 5 laminar flow hood (LFH), making small hand-fill operations seamless and easy.
Below is the layout of our sterile facility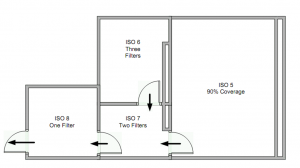 Excite Pharma Services also offers an array of post-manufacturing services including:
Microbial Inspections
Visual Inspections
Packaging & Labeling Services
Storage & Distribution Services
If you have any questions or are interested in more details of our sterile fill / manufacturing services, please contact us.