Excite Pharma Services offers stability programs for drug substances (APIs) and drug products and utilizes the ICH Guideline (Q1E) for the design of its stability studies. We offer normal and accelerated stability environments per the guidance, as well as refrigerated, frozen and photostability conditions if necessary.
The purpose of stability testing is to provide evidence on how the quality of a drug substance or drug product varies with time under the influence of a variety of environmental factors such as temperature, humidity, and light to establish a re-test period for the drug substance or a shelf life for the drug product and recommended storage conditions. Stability testing is essential to establish the proper packaging configuration for finished drug products. (ex. clear vs. amber vials, foil pouches, blister packs, etc)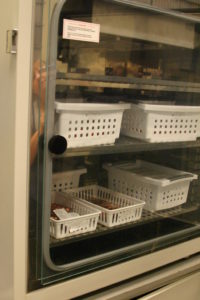 ICH compliant stability programs
Room temperature and accelerated chambers
25°C/60%RH, 30°C/65%RH, 40°C/75%RH
Validated, alarmed, back-up power
Photostability
If you have any questions or are interested in more details of our stability capabilities, please contact us.